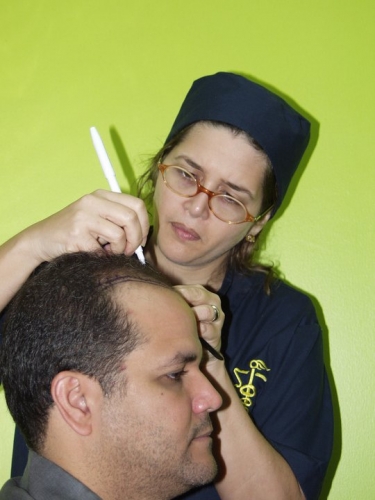 Hair Transplantation—Refined. Looking for natural hair transplantation method to stimulate hair growth? Follicular unit extraction is a time-honored and tested hair transplantation technique designed to harvest donor hair with minimal invasiveness and much reduced potential for scarring at the site of donor hair removal.
Follicular unit extraction (FUE) is the latest and the most minimally invasive hair replacement techniques available today.
Completely natural, permanently undetectable follicular unit extraction is a life-long hair restoration that involves the most advanced scientific technology where hair follicles are extracted individually from the back side of the head, beard or other body parts with the help of special micropunches (size varying from 0.7mm – 1.3mm).
As a skilled hair transplant surgeon in Dominican Republic, Dr. Alba Reyes is well-versed in meticulously removing single hair follicles from a donor site, using extremely small excisions.
Dr. Alba Reyes facility in Santo Domingo adopts the safest FUE methods in dissecting follicular unites from the donor strip though Stereoscopic- microscopes.
Extracting More Hair Transplant Benefits with FUE
From cosmetic surgical evolution to hair restoration revolution. One of the highly significant benefits of follicular unit extraction in Dominican Republic is its non-invasive nature and aesthetically-pleasing results.
Less follicle damage, leading to a greater uptake rate
No infection or reaction to sutures
Flexibility to wear short hair
The clinic also specializes in the strip harvesting method, which works by removing the follicular unites with skin strip from the donor area.
The follicular unites are removed with meticulous care using stereoscopic microscopes to avoid any damage to the follicles and reducing scarring risk to the donor area.
This method allows the patient to receive a larger number of grafts to the balding areas during a given surgical session.
Get a FREE quote for Follicular Unit Extraction (FUE)
Once you click the button you will receive your quote in your email within a few minutes and we will never spam you.