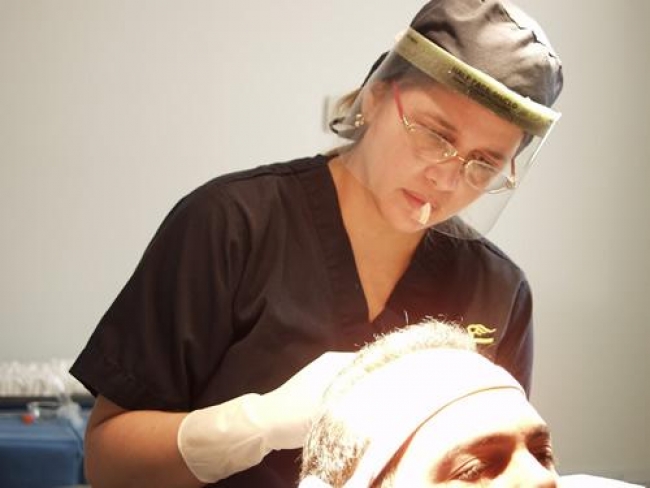 More Hair Coverage–Less Scarring. Follicular unit transplantation (FUT) is one of the advanced hair restoration methods in Dominican Republic where hair is transplanted exclusively in its natural occurring, follicular units.
These follicular units are made up of either 1, 2, 3, or 4 hairs in each follicle. During your hair transplantation surgery, the hair is removed from the donor area in the back of your head where your hair is genetically designed to grow for life.
A thin strip of donor hair is harvested from the donor area. Dr. Alba Reyes administers a special FUT hair restoration method, known as ultra-refined follicular unit hair transplant.
Although follicular unit extraction is a popular method for a refined, non-invasive hair transplantation, follicular unit transplantation can provide fuller and natural results–when carried out by a skilled hair transplant surgeon.
Place confidence in Dr. Alba Reyes's unique skills who is capable of producing maximum hair transplant coverage and minimum invasiveness with follicular unit transplantation in Dominican Republic.
Attain Aesthetic Density with Ultra-Refined Follicular Unit Hair Transplant
Dr. Alba Reyes performs ultra-refined follicular unit hair transplant technique in Santo Domingo practice, utilizing highly advanced surgical technology to provide patients with the best results.
This technique allows Dr. Reyes to make smaller and accurate incisions bundling from 40-60 follicular unit grafts per square centimeter, resulting in rich, dense graft which accounts for twice as much as the standard FUT procedure.
Dr. Reyes has a sharp eye for details and follows a very precise approach when it comes to performing the ultra-refined follicular unit hair transplant technique because the surgery requires a great deal of accuracy and precision.
Stereo microscopes and micro surgical blades are used at the clinic helping surgeons to dramatically transform and increase the hair graft in the patient's balding area.
Dr. Rayes then creates the recipient sites in the hair loss areas with extreme attention given to the accurate angle and direction of each tiny recipient site to ensure maximum redistribution of the transplanted hair and to achieve aesthetic and artistic density.
The grafts are carefully and meticulously placed in the sites created. Hair growth is usually noted within 4 months with final results about a year.
Seamlessly Camouflaging Scars with Trichophytic Closure
At times, the prospect of having a linear scar after follicular unit transplant is of a concern to some patients. Dr. Alba Reyes employs a highly advanced treatment technique in strip surgery scar repair, designed to reduce the visibility the upper or lower edge of the donor area, allowing the edges to merge together.
This technique is known as Trichophytic closure and can be applied to patients who previously had a hair transplant which resulted in scarring the donor area. Trichophytic closure can effectively correct and cover up the scar.
Get a FREE quote for Follicular Unit Transplantation (FUT)
Once you click the button you will receive your quote in your email within a few minutes and we will never spam you.